Because the kindest gift to yourself is a workout you love.
Join our intimate community from anywhere in the world for only $35/month.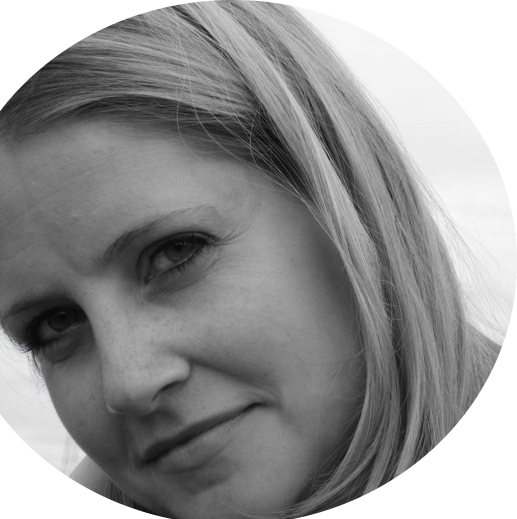 Finally a routine that works for me...
A year and a half after giving birth, after multiple failed attempts at establishing a workout routine I could stick to, I finally found one that works for me.
I feel better. I have more energy and flexibility. And more confidence. And when my 2 yr old wants to play his current favorite game "Mommy Fall Down" (he tips me so I "fall" on my back, he taps my knee and I sit up again... repeat, repeat, repeat), I can play as long as he wants.
I can't say enough good things about Elyse or her program. (Seriously - there is NO ONE in the world who could motivate me to wake up at such an early hour to get these workouts in other than Elyse!).
~Phoebe Chase Ramsey*
Imagine seeing yourself in full-body photos, and loving the way you look.
Imagine having more energy for your life and new muscles you flex for your friends.
Imagine being excited to exercise every day.

Without it taking over your life.
A workout that works for you: it's the holy grail.
No more all-or-nothing, "I don't have 3 hours so I won't do anything."
No more "falling off the wagon."
No more "gotta hit the treadmill" all-day dread.
Welcome to The Library:
An ongoing membership that will keep you in the daily swing of moving your body -- with a motherlode of workouts, all 30 minutes or less.
plus You'll get:
Access to the style of workout you need: low impact workouts, yoga-inspired workouts, full body workouts, blasts highlighting different body parts/concentrations, stretch~reach~expand, and meditations.

Brand NEW workouts added every month, so you'll stay engaged and motivated.

A new calendar I've designed for each month (you can print or follow it online) so you'll know exactly what to do each day -- if it's scheduled, you'll DO it.

Access to our supportive FB community to post #sweatyselfies + cheer each other on.

PLUS a private (non-Facebook) community where you can post questions, comments, notes for me or others -- perfect for you if you're a social-media-phobe.
I'm loving my body where it's at...
The Library has given me the ability to be gentle with myself, to not beat myself up about not feeling like I'm measuring up to impossible standards. This program is great because it's flexibility fits into busy lives.
It also works well for others, like me, with a chronic illness who need a program that they can modify and work at their own pace. It encourages me to move at whatever place I am physically on that day or in that moment.
I'm finding joy in movement, am loving my body where it is, and relishing in the strength and stamina I feel.
~Sheridan Johnston*
Join in this supportive community with us!
What happens when you sign up?
Take a peek behind-the-scenes...
There are 30+ videos already, PLUS brand new workouts added every month!
Here's a sample of the variety you'll find within The Library:
20 min Yoga Inspired Workout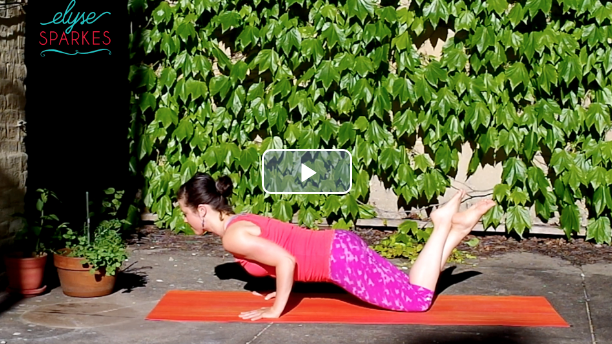 20 min Yoga Inspired Workout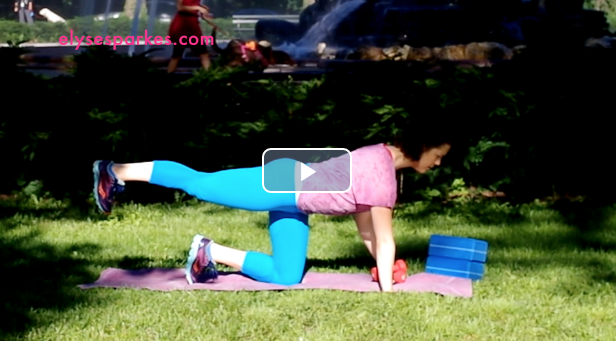 30 min Low Impact Workout
Questions? I've got answers...
What equipment do I need?
We're going for quick, easy, and accessible from your living room, so we're going to keep it light in the equipment department. At the minimum I recommend having a yoga mat and a set of weights. If you have sensitive knees or tight hips, I'd also recommend you have a pair of yoga blocks and a yoga blanket (or folded towel).
Do I have to show up at a certain time?
Nope, you don't have to show up at a certain time! Whether you're an early bird finishing up your sweat by 5:45am, or following along to destress before your 11pm bedtime - it'll work for you. All the videos are pre-recorded for you so you can stream them online and follow along with them whenever it works for YOUR schedule.
What's the time commitment?
You'll start with the 21 Day Workout Program, where I suggest that you do three 30 min workouts per week. That being said, there are additional workouts available to you if you want more during the 21 days. After the 21 days you'll get access to the entire Library, plus the fresh new calendar I create for you each month. The Library monthly calendars will vary from month to month, but YOU are always in control of what you choose to do and how often you do it. Most people choose to continue with 3 Full body workouts per week, plus additional shorter videos depending on what they need that week.
30+ videos sounds overwhelming... how am I going to know what to do?
I totally understand overwhelm - especially when starting something new! This is an intimate community and I am here for you 100%. In your first 21 days I'm going to send emails to your inbox 3x/week so you know exactly where to click and what to do when you get on your mat. After that you'll get monthly emails from me on our theme, a monthly video coaching call, plus daily interaction in our group community.
I have bad knees, but I still want a good workout. Will this work for me?
There are modifications, low impact workouts, and special videos highlighting different body parts/concentrations, so you'll be able to find something that works for you whether you're dealing with a chronic injury, some aches & pains, or just need a low energy day. Here's the thing: since unfortunately I can't jump out of the screen to address your specific needs you'll have to speak up and ask questions when you need! I've been known to make impromptu videos for any modification questions so that you know exactly how to adapt a move to make it work for your body! Plus, as with any exercise program, please make sure you have your doctor's clearance before you start.
Why is there a 3 month minimum commitment?
The best kept secret in the fitness industry is this: there's no quick fix. Yes, you can immediately feel better in your body from just one workout or a 5 day challenge, and that's SO amazing! But in order to see and feel long lasting health benefits and continue to build your strength, endurance, balance, and flexibility, you have to keep moving consistently - over time. We're going for longevity here. If you're ready to finally feel like you have an ongoing system, plan, and workout style that you get EXCITED about, you'll be in it for the long haul. Because the kindest gift to yourself is a workout you love.
What's the return policy?
I believe in this program so much, I think you're going to be 100% in love with it! If you have any concerns, email me within the first 7 days of purchasing the program and I'll ask you a few questions to see how I can help. If it turns out to be not the best fit for you within the first 21 days, I will refund you. Please understand that if you choose not to continue at any later point you will not receive a refund.
Have another Q you don't see here?
Fun, efficient, + modify-able for anyone!
I find myself actually looking forward to exercise in ways I never have before.
My favorite parts are the variety within each workout and the supportive online/phone community! It's fun, efficient, supportive, really versatile and modify-able for anyone.
~Amy Krasner*
Quality, approachability, and flexibility
I've experienced alignment improvements and more opportunities to get on my mat.
I like the flexibility in this program and of course I love Elyse. She has such an upbeat, approachable, and inspiring personality! Quality, approachability, and flexibility - highly recommended!
~Heather Jane McCormick*